💌 If you just got here via our email, please visit the latest ICYMI #6 here. 👈
The easiest way to stay up to date with the latest from the COLORSxCOMMUNITY.
Community gallery: Janice Mascarenhas
Community playlists
Community IRL events
Discord channel reorganization
Curatorial research collaboration
Community reflection session
Community application form
Transparency documents
---
Community gallery: Janice Mascarenhas
From July 25 to August 8 we're featuring Janice Mascarenhas.
Janice Mascarenhas is an afro-brazilian creative director and hairstylist researching history from a collective past through hair and ceramic pieces. They have been researching braids for 6 years shining a light on how hair connects black people around the world as a tool of resistance, communication and aesthetic expression. By mixing digital art and art pieces their video installation make people understand the importance of hair for black people.
Learn more: homepage | foundation | colors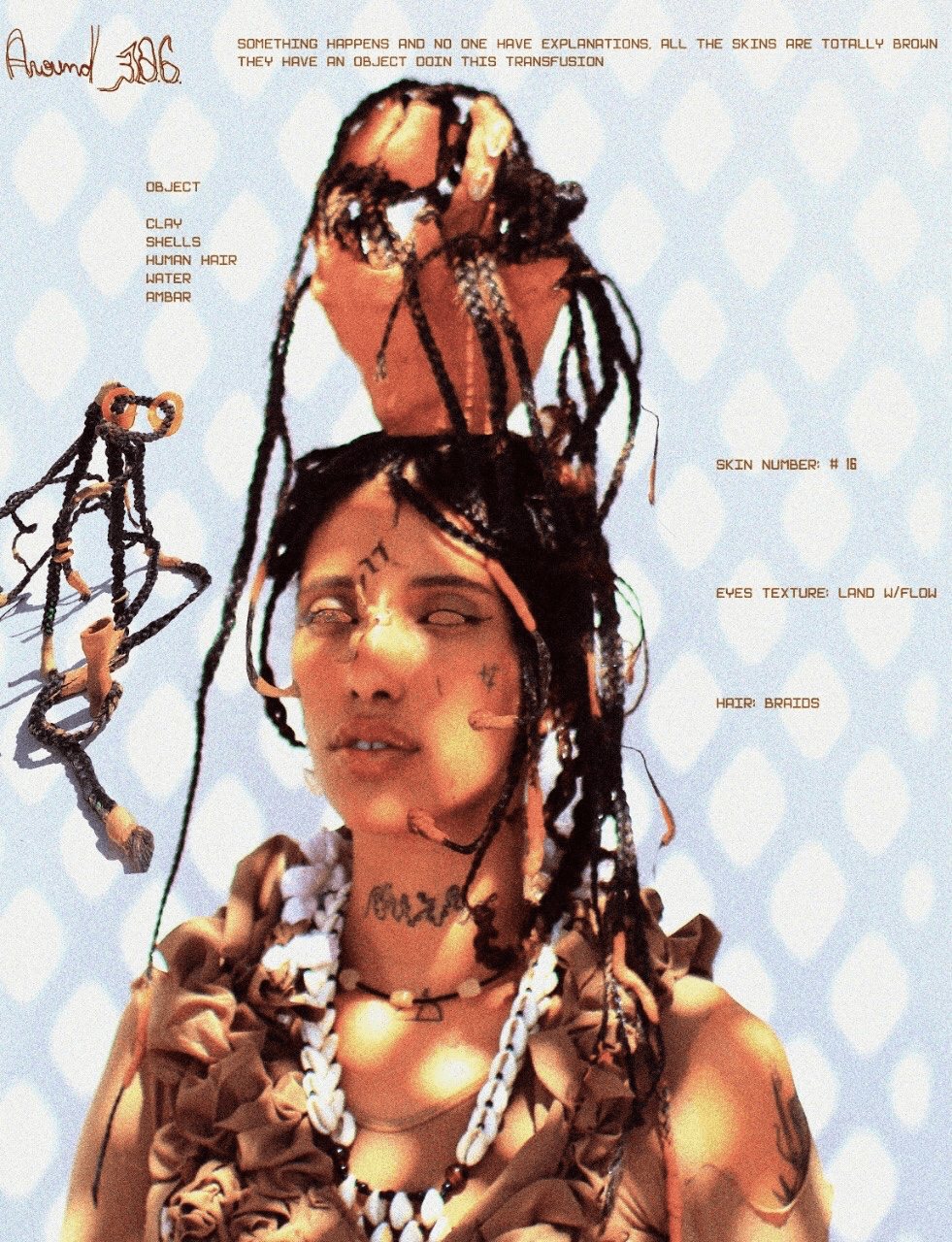 Amplify here:
---
Community playlists
What's a creative community without a playlist? A group is forming to start curating regular playlists. Community and DAO members can learn more about it by navigating to the COLORSxCOMMUNITY Playlist thread in the community chat on Discord.
Key takeaways from an initial meeting:
We will post a new playlist bi-weekly using Spotify and Ooh La La (Web 3 music aggregator) and share on our socials.
Community will be involved in the curation of these playlists and creation of the cover for each playlist.
The artist featured on the cover of the playlist will be invited to participate in a Community Highlights session and will be queued for a write up within the upcoming community editorial.
You can read the full notes in the thread linked above.
For a sneak peek, the early stage trial playlists can already be listened to while the community gets something more official out the door in coming weeks.
---
Community IRL events
We are preparing a proposal for RefractionDAO's creative grants. The people working on this are exploring events in multiple cities that will have performances, web3 education, visual arts, local community connections, editorial components, and a link to our upcoming community NFT gallery.
Want to get involved? If you hold a Founding Pass, navigate to the RefractionDAO grant proposal thread in the #irl channel.
---
Discord channel reorganization
The Discord channel reorganization has kicked off.
Announcement channels are now largely grouped together in a section called Updates.
Different workgroups and projects now have their own sections near the top of the channel list, only visible to people in the DAO or verified community.
The channels for all localities and the various languages have been switched to opt-in. You can now go to the Server Customization category near the bottom of the channel list and start opening channels for different places in the world.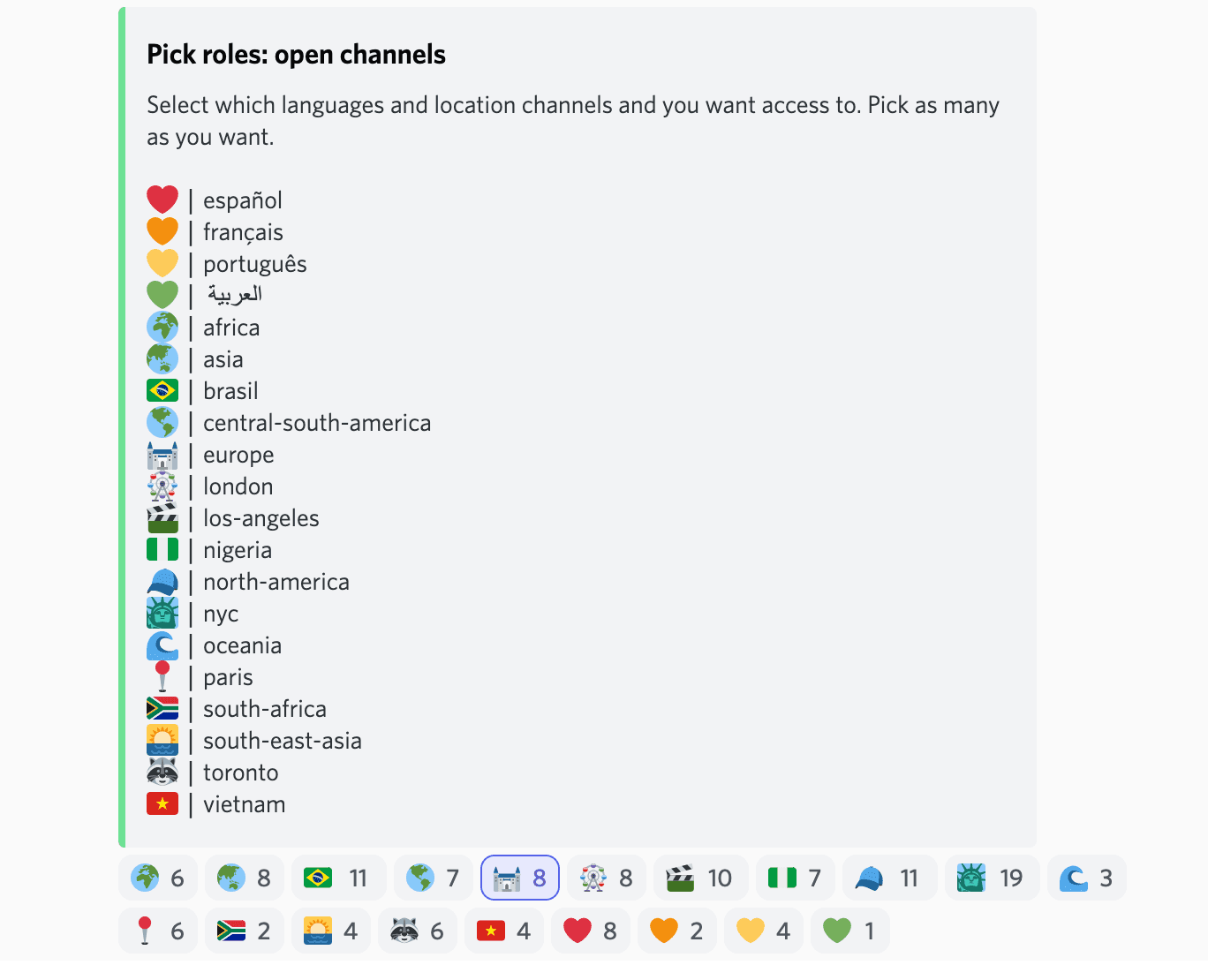 ---
Curatorial research collaboration
The community is teaming up with COLORSxSTUDIOS' curation team to research artists for a series of upcoming shows in South East Asia.
This week, we brainstormed:
What will we look for in artists? (criteria)
How do we spotlight relevant talent towards the COLORS team, the community, the world?
What could the revenue models for the DAO be?
If you're in the DAO, you can review the outcomes in the relevant curatorial research channels.
Next steps:
COLORSxSTUDIOS is about to enable their crowdsourced information funnel, so hopefully over the next week we'll start getting artist submissions in and we can get a better picture of what we'll be working with.
In next week's session (Wednesday 3pm CET – 2 hours before the Weekly Talks) we will explore how we format our curation and talk about revenue streams again, so we can can make this community partnership more concrete.
If you are participating in this stream, please read through the document. You can comment in the document if you want to ask questions, add feedback or drop more ideas.
For access, make sure you hold one of our Founding Passes or are a verified Community member. Founding Pass holders should go to the #wallet-connect channel on Discord in order to unlock access to all channels.
If you're set up with access, all information can be found here.
---
Community reflection session
We used our Weekly Talk time on Wednesday (27.08.) to have a collaborative session on FigJam thinking about the type of contributors and community members we're looking for and how we could best identify these people.
You can read about the results here.
---
Community application form
We are reorganizing our community, by
Reducing the amount of channels that are publicly visible and asking all people wanting to enter the server to submit an application. People who currently do not have the Community or DAO role would also have to fill in this form to continue being able to access most channels in our server.
This application to join our server is seen by the entire community and DAO. Everyone can vote. Maybe with a little sunshine ☀️ emoji → We set a threshold, e.g. 10 votes to get in.
Once accepted, people get access to a few basic community channels as they get onboarded into workgroups.
We can keep certain announcement channels and the public stage public and accessible to all. Local channels will also be public to create community on-ramps, but opt-in only.
Based on our discussions in the session, core team member Sorrel has drafted an updated version of the application form to join our community. She's kept a lot of elements from the existing form but also added some new questions to focus more on contribution and specific skills/ areas of expertise people who are applying have.
Please leave any feedback and suggestions for changes via comments by 01.08. After that she'll integrate your suggestions and set a new version of the form live. This form can be updated again at any point as the needs and foci of our community shift.
The document can be accessed by the community and DAO only, here.
---
Transparency documents
To better involve the community in the various domains of operation, we've drafted two documents to create greater transparency. These explain the status quo with its constraints and imperfections.
Our journey as a community DAO spinning out of a centralized brand will be unique. While the opportunities from such a partnership (or symbiosis) are exceptional in the space, some of the obstacles and hurdles are unique too.
Notion: Jul 20: Financial Update.
Notion: Jul 20: COLORS + DAO structure memo.
Feedback or input? Please use the survey, DM the core team, or participate in relevant Discord channels.
---
In the DAO or Community and want to contribute to ICYMI #5? Please find the corresponding thread in the #editorial channel, here.
💕