The easiest way to stay up to date with the latest from the COLORSxCOMMUNITY.
PSA: in order to highlight more significant milestones, we are changing our cadence to bi-weekly cycles instead of weekly.
Community gallery: Cyshimi
Vietnam curatorial research: toolkit
Community playlist submission form
Community application review: live now!
Opening soon: NFT gallery curatorial board applications
What the core team is working on
---
From August 9 to August 21, we're featuring Cyshimi.
A transdisciplinary artist, Chinese and Taiwanese Brazilian. (b. 1998)
Their research explores issues of ancestry, identity, beauty and body through sculptures, performance, digital art and nails. For Cyshimi, nails are "Performative Sculptures", a term coined by the artist who affirms that their nails are not just a static object, but a sculpture that shapes the performativity of bodies. They are a symbol of resistance, empowerment and identity. Cyshimi sees each nail as a new world, built by shapes, colors and textures that, when together, cross those who see and use them.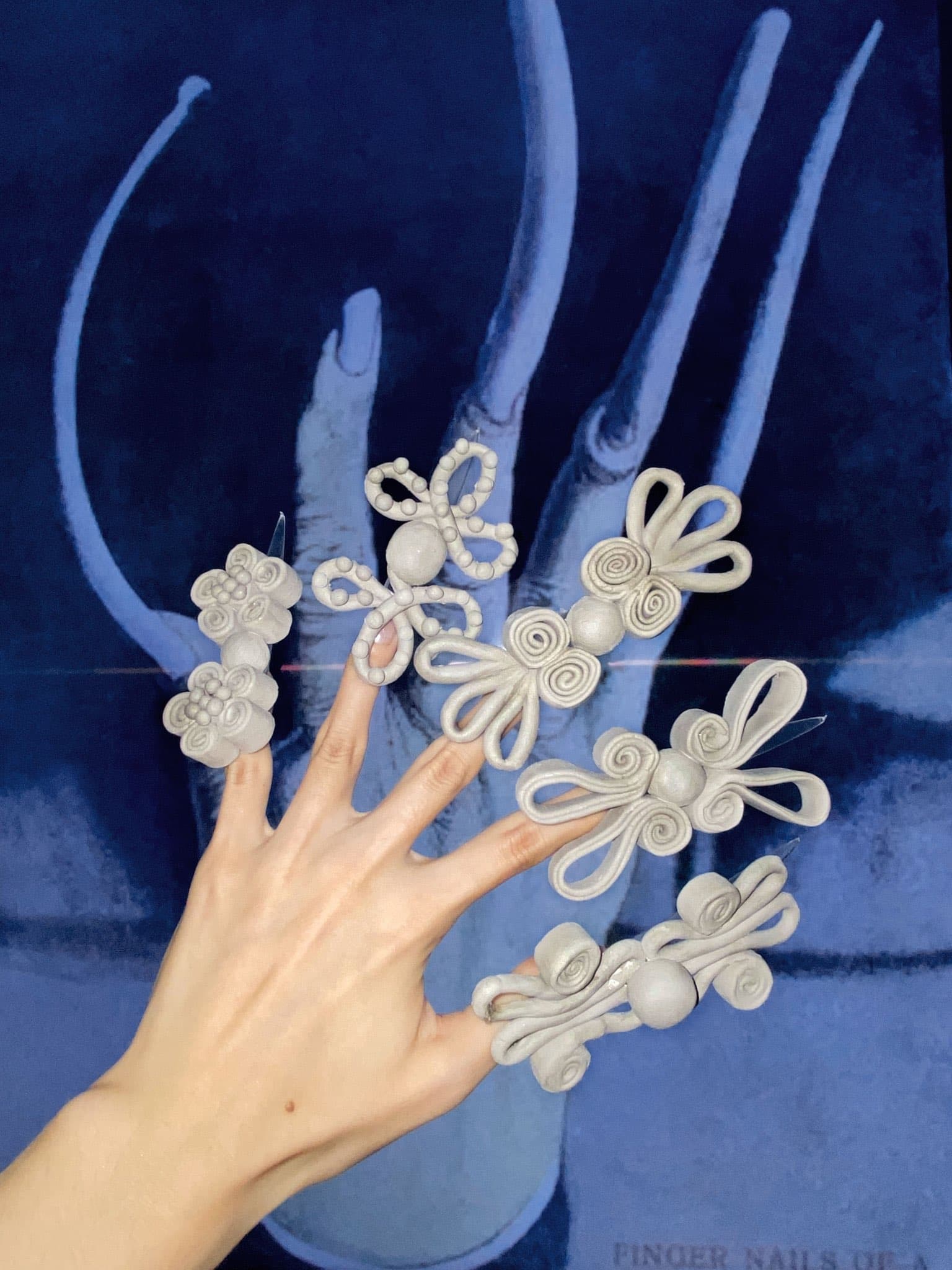 ---
We just token-gated our first Google Sheet.NFT holders: come join the research project. 🧐
✍️ Verify on Guild.
🔓 Open the document.
🧰 Follow the steps in the toolkit.
👋 Say hi in the project channels on Discord.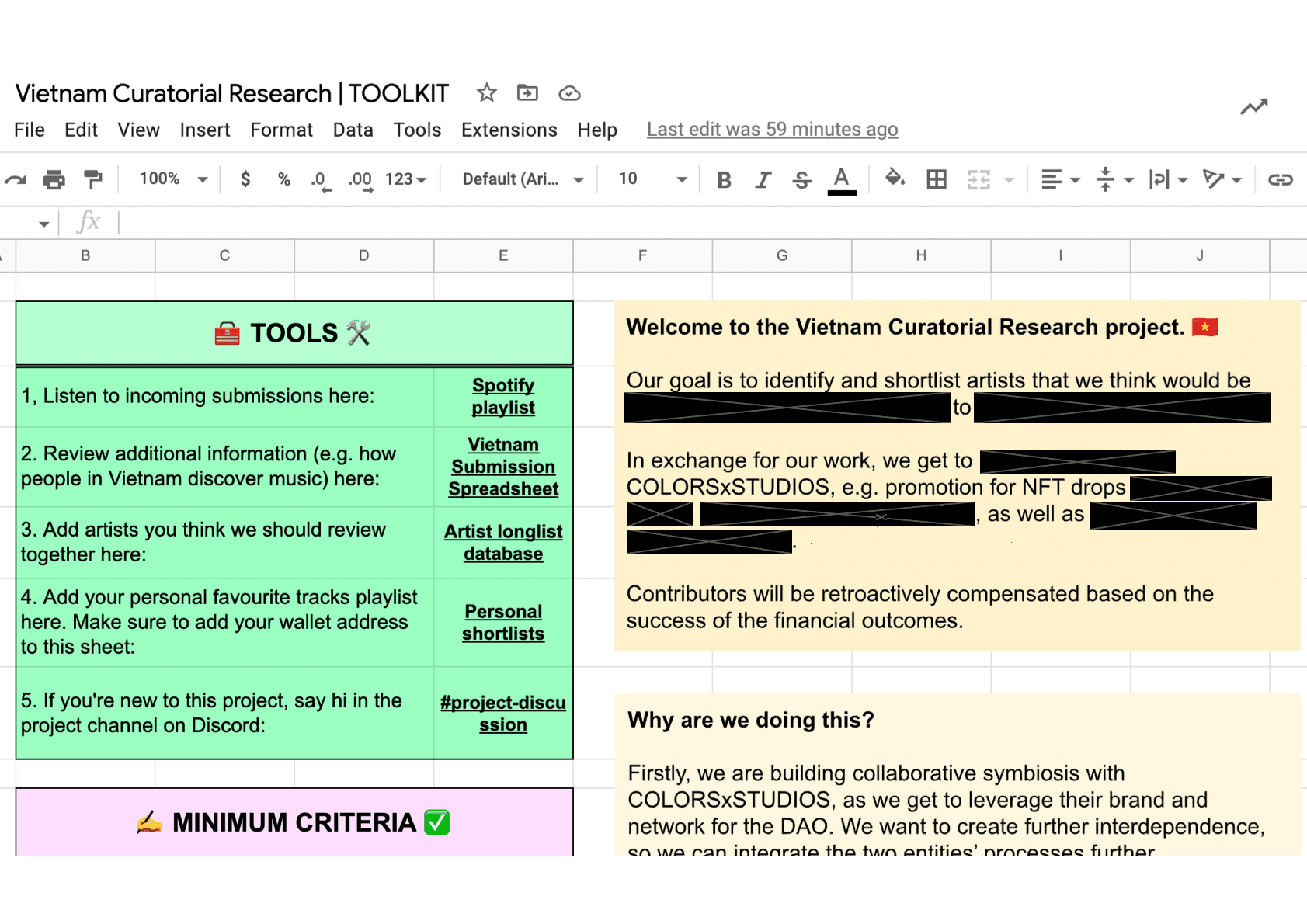 ---
Over in #playlist-curation, a number of people are working together to curate playlists for the COLORSxCOMMUNITY. There's one web3 playlist on Ooh La La, meaning it plays music from NFTs, and one more conventional playlist on Spotify:
You can now submit your music. Click here to go to the form. 👈
If you are part of the community, please check the pinned messages in the Discord channel to see all incoming submissions.
---
Ahead of our previously announced Discord overhaul, we've launched a new community feature.
If you're in the community, you should now see a channel called #🌞│new-applicants-review.
This channel is used to collectively decide which new members are accepted into our community.
You can vote with a ☀️ sun emoji on applicants which you feel would be a good fit for our community and its needs. Once an application has received 10 upvotes, the applicant will receive an e-mail to welcome them into the community.
Next Monday (Aug 15), we are closing most of our Discord to non-Community members. Make sure you join the Discord, apply to the community and / or get one of our Founding Pass NFTs.
---
5. Opening soon: NFT gallery curatorial board applications
If you've been keeping up, you should know by now that we are working on our own NFT gallery to onboard and spotlight exceptional artists in web3.
Our goal is to harness curation as an art form. Therefore, we will not do '"upvote my song"-style popularity contests, but instead the idea is for the DAO to appoint a curatorial board for the first season of the community NFT gallery.
These curators will be responsible for putting together the first season of art (music, visual, mysteries). Together with the artists and DAO treasury, they will get to share in the upside of those NFT drops.
Next week we are opening applications for the curatorial board. Verified community and DAO members will be invited to apply. Are you ready? To prepare, think about what qualifies you as a curator and what your vision for curation is.
P.S. Once again: make sure you join the Discord, apply to the community and / or get one of our Founding Pass NFTs.
---
6. What the core team is working on
The core team is focused on a number of projects. These include:
1) Membership directory for Founding Pass holders. Our goal is to make it easier to navigate the community and for people who are considering buying an NFT pass or becoming a contributor to see what they'll becoming a part of. Est. late August.
2) Community NFT gallery. We are iterating on the design and technical set-up for our community's NFT gallery. Through it, we will be able to curate and spotlight exceptional artists in music & beyond. Est. September.
3) Partnerships. We are in the talks with a number of DAOs and organizations to find synergy between COLORSxCOMMUNITY, COLORSxSTUDIOS, and themselves. The goal: bring revenue to the treasury, so we can run more projects, create grants, and proactively compensate more contributors.
4) Notion overhaul. Based on recent community feedback, we are setting up new dashboards, so people can find out more about our missions, get involved, and better understand what's going on. Est. late August.
5) Vietnam curatorial research. Project management for the project, as well as liaising between COLORSxSTUDIOS and COLORSxCOMMUNITY.
6) Discord overhaul. Working on the final mile to bring a focus and structure to our Discord. We just shipped a new application flow with community-wide reviews. Next week, we're making the final steps in the process.
We appreciate the efforts of the large number of community contributors involved in these projects.
---
See you for the next ICYMI in 2 weeks!
In the DAO or Community and want to contribute to ICYMI? Please find the #editorial channel.
💕