The easiest way to stay up to date with the latest from the COLORSxCOMMUNITY.
Community gallery: KAANG
DAO VOTE: Community NFT Gallery curators
Town Hall: September 6
Community onboarding calls
Vietnam curatorial research: shortlists & longlists
What the core team is working on
---
For the next two weeks we're featuring KAANG.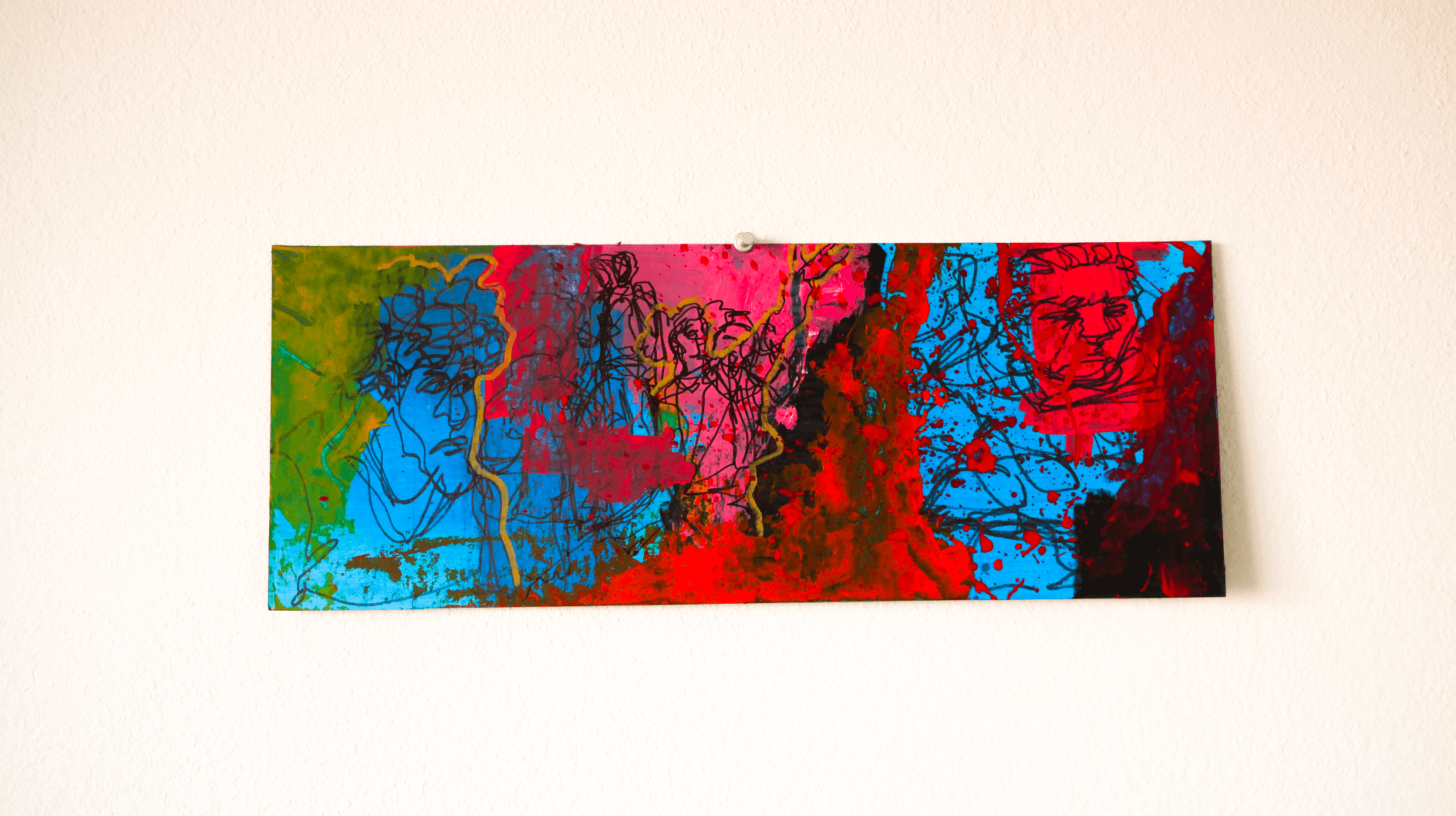 "I go by KAANG, I am a 24 year old painter and rapper from Los Angeles. I've been doing both since I was very little. My current style is an amalgamation of single line figurative gestures and destructive abstractions to represent my emotions. I use this format of painting to process my mental illness, and overwhelming feelings. This piece is called Critical Pacing it came in the midst of losing a job, a relationship ending and a medication change around the same time."
Check out more of KAANG's work here: https://www.instagram.com/artsyblackguy/
---
We are electing a board of five curators for our upcoming community NFT gallery. This gallery, also a marketplace, will allow the community to launch NFT projects and participate in their profits.
The curatorial board will be responsible for sourcing the first season of artists & artworks to feature.
If you currently hold a Founding Pass NFT, please vote.
👉 Vote here.
👉 Learn about candidates here.
Voting closes: Aug 29, 11:59pm CET, 17:59pm ET.
---
3. Town Hall: September 6
Join us for our first Town Hall session on September 6.
👉 RSVP here.
During the Town Hall we will:
Review the results from our recent DAO & community survey
Discuss iterations in governance, stewardship & proposal flows
Reveal the inaugural curatorial board for our NFT gallery
Update you on our core priorities such as the gallery and member directory
See you on Discord: Sept 6, 5.30pm CET, 11.30am ET.
---
For anyone who has joined our community recently or anyone else who would like more clarity about how everything is set up, what we're working on, and how you can get more involved, core team member Sorrel will be starting to offer 15 min individual onboarding calls from next week onwards.
👉 Learn more and go book yours via this message in the community announcements channel.
---
5. Vietnam curatorial research: shortlists & longlists
We have partnered with COLORSxSTUDIOS to help curate future shows. Through this exercise in collaborative symbiosis, we will learn how to link processes between COLORS and the community plus create novel revenue streams to benefit our treasury and project contributors.
Over the past weeks, the project contributors have been building playlists and collecting information on local artists in Vietnam. We will soon be moving from our personal shortlists to a community longlist, before trimming that back down to a shortlist.
If you're in the community or DAO, it is not too late to participate! Find the toolkit in the info channel and follow the steps.
Next Wednesday we'll be joined by the COLORSxSTUDIOS curation team for our weekly curatorial research call. We'll align with them on next steps and learn what it takes to get to a great shortlist. RSVP.
---
6. What the core team is working on
Membership directory for Founding Pass holders. Our goal is to make it easier to navigate the community and for people who are considering buying an NFT pass or becoming a contributor to see what they'll becoming a part of.
Community NFT gallery. We're setting up the curatorial board and basic processes, plus thinking through design questions for mechanisms of upcoming drops.
Partnerships. We are in the talks with a number of DAOs and organizations to find synergy between COLORSxCOMMUNITY, COLORSxSTUDIOS, and themselves. The goal: bring revenue to the treasury, so we can run more projects, create grants, and proactively compensate more contributors.
Notion overhaul. Based on recent community feedback, we are setting up new dashboards, so people can find out more about our missions, get involved, and better understand what's going on. Live before the Town Hall!
We appreciate the efforts of the large number of community contributors involved in these projects.
---
See you for the next ICYMI in 2 weeks!
In the DAO or Community and want to contribute to ICYMI? Please find the #editorial channel.
💕